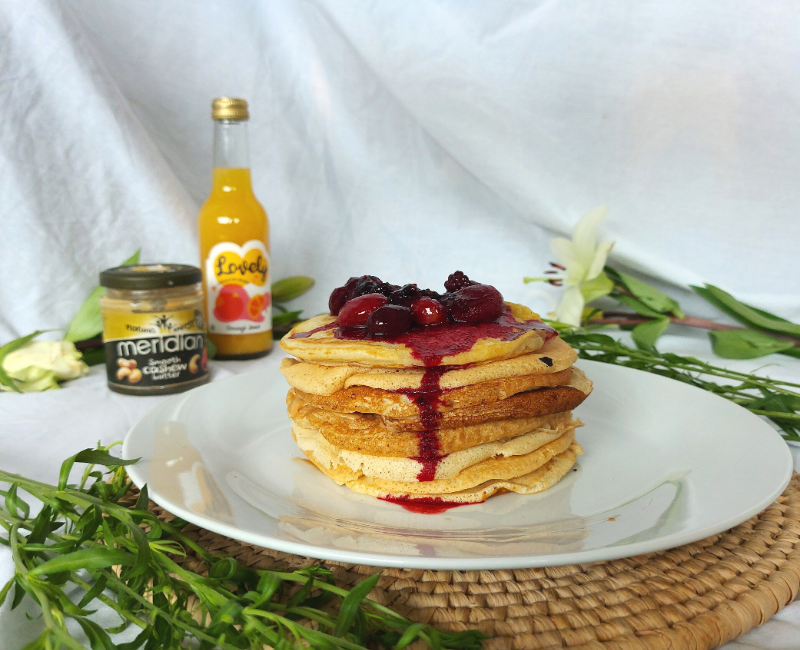 Lovely Vegan Pancakes
Happy Pancake Day! Here is a vegan pancake recipe that we think you'll love.
What you'll need:
1 ¼ cups (315ml) Soy Milk
1 tsp Apple Cider Vinegar
1 tsp Vanilla Extract
1 ½ cups (210g) Plain Flour
3 tbsp Sugar
2 tsp Baking Powder
Pinch of salt
2 tbsp Coconut Oil (Melted)
Vegan Butter for the pan
Peanut butter
Frozen berries
1 Bottle of Lovely Orange Juice
Method:
1) Combine the soy milk, apple cider vinegar and vanilla extract
2) Set aside your milk mixture until it thickens into vegan buttermilk
3) In the meantime, whisk together the flour, sugar, baking powder and salt in a large mixing bowl
4) Make a well in the dry ingredients and add the melted coconut oil
5) Pour in the vegan buttermilk mixture and whisk into a smooth batter
6) Place your pan on medium heat and evenly spread with some vegan butter
7) Place ¼ cup of batter into the pan and wait until you see bubbles form, then if you're feeling brave, go for a fancy flip or you can use a fish-slice
8) Cook both sides until they are golden and then coat with your favourite toppings
Although you can top with whatever tickles your fancy, here is a tasty topping we suggest.
Toppings Method:
1) Microwave some frozen berries until defrosted and warm
2) Spread some peanut butter onto your pancakes
3) Then drizzle your berries onto your stack
4) Crack open a bottle of Lovely Orange Juice and enjoy
Check out our Lovely Pancake Reel
No fluffy pancake stack is complete without a fresh bottle of Orange Juice. Get yours today - Shop Online!