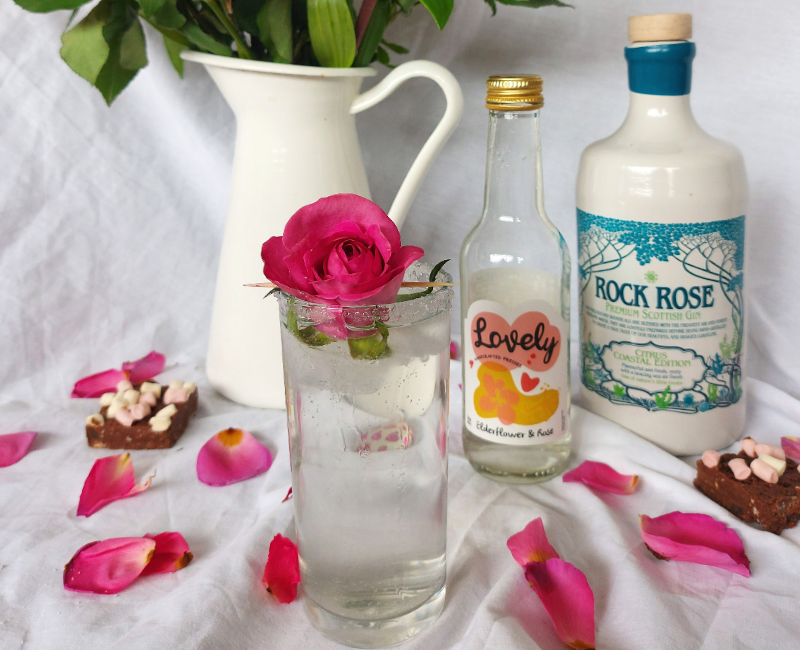 Here's a Rosey Fizz to sweeten any Gin-Lover's Valentine's Day. Filled with floral flavours to get your taste buds tingling.
Here's what you'll need:
1 tbsp Sugar
1 tbsp Lemon Juice
1 Bottle of Elderflower & Rose
50 ml of Rock Rose Gin
1 Rose
1 Toothpick
Some Ice
Here's how you make it:
1) Dip your glass in the lemon juice and gently shake off the excess juice
2) Dip your glass in your sugar until the rim is covered and then gently tap
3) Add as much or little ice as you like
4) Tip in 50ml of your favourite gin – ours is Rock Rose's Citrus Gin
5) Top up with our Elderflower & Rose Presse
6) Carefully cut a rosebud and pierce horizontally with a toothpick
7) Place the Rose on top of your glass as a garnish and enjoy!
See our Rosey Fizz Instagram Reel
Who will you be sharing this Rosey Fizz with this Valentine's Day?
Find out why Rose Rock is our #1 Favourite Gin